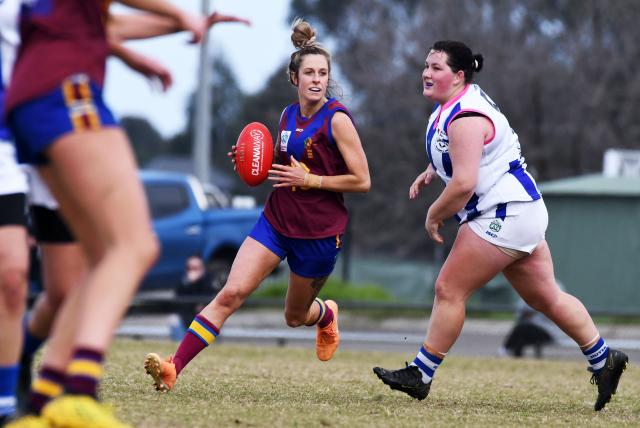 By David Nagel
Pakenham has bounced out of the Queen's Birthday weekend bye with renewed enthusiasm recording a thumping 18.16.124 to 0.1.1 victory over Thornton Eildon on Saturday.
The Lions began well, booting four goals in each of the first two quarters, before kicking 3.8 in an inaccurate third term.
Coach Rick Stalker asked his players to work more as a team in front of goal, and his instructions worked with the Lions kicking seven straight in the last quarter.
The Lions shared the workload beautifully, with 10 players hitting the scoreboard.
Donna Monckton was the star of the day, booting five, while three goals to Bianca Moody and two each to Melina Eppel and Cahli Parker helped the Lions to a convincing victory.
Regular stars Courtney Stephens, Abbey Tognazzini, Eppel and Moody were at it once again, while Monckton and Steph Grentell were others to shine on the day.
The Lions are one of three teams to have a bye this week.
They next hit Toomuc Reserve on Saturday 2 July against Monbulk.
In other games, Alex Bantock kicked five and Emma Caccetta three in Upwey Tecoma's massive win over Yarra Junction, while Healesville showed it is made of the right stuff with a 50-point victory over Olinda Ferny Creek.
Ishka-Belle Stock slotted four for the Bloods, who kept Olinda scoreless for the first time this year.
And Belgrave will be partying hard after a 41-point victory over Monbulk.
The Magpies had not tasted success since round one, but were always in control of the contest.
Nicole Baboucek and Jess Weisgerber kicked two goals each for the Maggies, while Laura Gillard and Shania Turner bagged a single each for the Hawks.
In Eastern Division One, Beaconsfield fell to a powerful Park Orchards side – 9.8.62 to 3.6.24.
Lauree Metcalfe, Sarah McCallum and Tash Bliss kicked a goal each for Beacy, while Alyssa La Rocca and Lauren Hojnacki were most impressive around the ground.
RESULTS – ROUND 10
Upwey Tecoma 18.13.121 v Yarra Junction 0.0.0, Olinda Ferny Creek 0.0.0 v Healesville 7.8.50, Pakenham 18.16.124 v Thornton Eildon 0.1.1, Belgrave 8.8.56 v Monbulk 2.3.15.
LADDER
Upwey Tecoma 36, Healesville 36, Olinda Ferny Creek 28, Pakenham 24, Belgrave 16, Monbulk 8, Yarra Junction 8, Thornton Eildon 8, Seville 8.
THIS WEEK
Yarra Junction v Olinda Ferny Creek, Belgrave v Seville, Upwey Tecoma v Healesville. Byes: Monbulk, Pakenham, Thornton-Eildon.