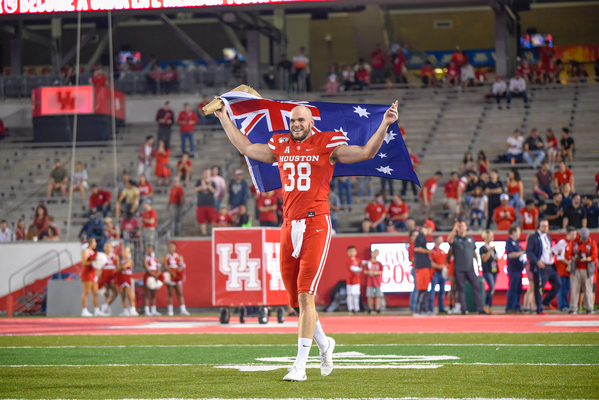 By sports editor Russell Bennett
Dane Roy was once discouraged from kicking at all during his time in the elite junior and VFL footy ranks because, as he was told, "ruckmen can't kick".
Well, this 200-centimetre former ruckman now stands a very real chance of being picked up by an NFL team and realising the dream he's had since joining the University of Houston as a 27-year-old punter in 2016.
The Bunyip product – a former ice cream salesman – knows a thing or two about proving people wrong, and fighting tooth and nail every step of the way to achieve his goals.
Since winning the Carlton Draught Barrel Time competition with a 73-metre bomb at the MCG on grand final day in 2015, Roy has pursued the kind of sporting pathway most could only imagine.
At it could lead to him signing on with an NFL franchise, like fellow local product Arryn Siposs has with the Detroit Lions.
Roy said the following to the Gazette just under four years ago, as he was readying to leave his parents' Berwick home to jet off to Houston on the journey of a lifetime.
"When you see an opportunity this big, you'd be dumb – you'd hate yourself and you'd have so many regrets – if you didn't take it."
The former Berwick Cougars baseballer – who also had stints playing footy at ROC (Officer) and Pakenham – had no idea just how prophetic those words would prove to be.
And now another massive opportunity awaits him, and it's one he's worked tirelessly for.
"It's been an unreal past few years over at Houston," said Roy, back living in Prahran for now.
"I've had so many experiences that I never could have imagined would happen to me in my life.
"From the first game in 2016, which was in front of 72,000 people against (now Cleveland Browns quarterback) Baker Mayfield's Oklahoma, to my 50th and final game where I didn't even get to punt – it's been a whirlwind four seasons, and it has definitely changed me as a person."
Roy has had plenty of time so sit down and reflect in recent weeks, particularly at home with his wife as they've been practicing social distancing along with the rest of the country.
The pair even got married before restrictions were escalated.
"It has been a strange past few months, and I have really enjoyed spending more time with the lovely Chiara – we've gone from doing long-distance for the past four years, to lockdown for the past month and a bit, a total change-up," he said.
"It's hard to plan what we are doing next, but I guess nothing has gone to plan yet and we have managed alright."
He's never been one to follow the script, and Roy's past year has been different to many even in the college football system.
"I originally intended to come back home and get a job after I graduated in December 2019, but I had too good of a season to just stop," he explained.
"Halfway through the season, a few UH (University of Houston) football staff were telling me that I was generating some NFL interest and I should consider giving it a shot.
"After speaking with Chiara about it all, she said 'well you've come this far, you may as well see how far you can go'."
Roy was among the most in-form college punters in America, and he ultimately earned a trip to Atlanta as a finalist in the prestigious 'Ray Guy Award', which is presented annually to college football's most outstanding punter.
He was among the top three out of punters from 130 teams across America, and following his final game started talking with player agents – ultimately opting for Ron Slavin from Sportstars.
Throughout his final college season, Roy took every possible chance to take stock and think about just how far he's come.
"I made a habit of sitting down on the bench before every game – to just take it all in, and look around the massive stadium that I was sitting in, as I knew I might not ever see it again," he explained.
"I always laughed and said to myself: 'How did a boy from Bunyip end up on the other side of the world punting in front of thousands of people? Where did my life change to get me here?'
"In those first few years I would get worked-up as I ran on to the field and thought about it too much really, and sometimes that would affect my punt.
"This past year I was very relaxed and that really helped my style – just a nice fluid movement, and trusting all the training I have done."
Throughout his college journey, Roy formed an incredibly tight bond with his team-mates – particularly the "specialists", as he calls them, from the special teams.
"We did a lot of things together, from dinners – even Thanksgiving dinner – to road trips, to hitting Bourbon Street (in New Orleans) together," he said.
"It really was great camaraderie."
As for the coaching situation he experienced in his college career, Roy said it reminded him – in some way – of what he'd been through back home in his footy career.
"The coaching situation was pretty similar to what I had here in Australia," he said. "Seasons 2017 and 2018 were the first time I had a coach for more than one season in a row.
"Before then, you have to go back to Bunyip in the mid-2000s and I'm pretty sure it was my dad then.
"The coaching merry-go-round in college football is ridiculous, and the wages are even more ridiculous – especially when the players don't really get paid – but I do have to give a shout-out to Coach Robinson, who was pretty much our special teams coach from 2016 to 2018. He was really good for me, and I want to give another shout-out to Coach Holgorsen and Coach Gideon for letting me punt however I wanted in my final year. Their trust in me made my job very easy."
But Roy's biggest debt of gratitude is owed to his wife, and his family.
"My beautiful bride Chiara has been amazing over the past four years," he said.
"She has gone through a lot and put on a brave face while I have been away, so I owe her a lot of date nights.
"We both knew what we wanted, and that's why we are still together.
"My mum and dad have been great too in supporting us both, and also making it over to a few games each season. My sister finally made the trip over to Houston and ended up going three times in the last 12 months I was there, so it was great to spend time with her over in my temporary home."
Before Covid-19 took hold, Roy had planned on jetting back to Houston late last month to prepare for his Pro Day on 31 March, before a series of private workouts for interested NFL franchises.
But all of that was thrown out the window.
"So I have been working out by myself with help from my trainer at Pulse-8 in Murrumbeena, and punting in the local park here in Prahran and with Nathan Chapman at Prokick Australia," he said.
Like most of the best punters in America, Roy was overlooked in the draft on the weekend.
Typically, punters tend to be signed as free agents after the draft – like Siposs in Detroit.
Whatever happens next for Roy, he'll be ready.
"I will be in close contact with my agent, and seeing where he wants to send me after the draft for a tryout," he said.
"My plan is to jump on a plane whenever I need to and hope everything works out again."
Roy hasn't lacked influences or role models in his punting journey so far – whether they be Prokick's graduates now in the NFL, or even the great Ray Guy, himself.
Roy hopes he's just the first Australian punter of what he hopes is a pipeline of players to come at the University of Houston.
"It was really a sporting fairytale for me and I am so happy to have been able to share my experiences with Chiara and my family," he added.