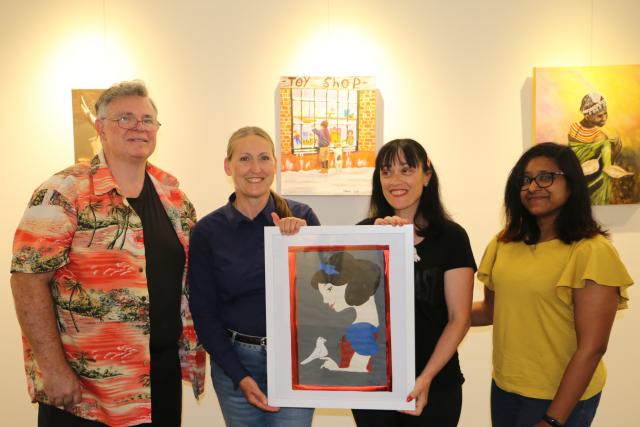 By Corey Everitt
White Ribbon Art Gallery is back to the Cardinia Cultural Centre with a selection of art reflecting the vision for lifting the veil on domestic violence.
Fifty artworks were entered into this year's exhibition from local artists to international with perspectives coming from all ages.
This year marks the third year of the gallery which was created by White Ribbon Casey Cardinia as a way for people to express themselves against violence when Covid restrictions prevented the annual Walk Against Family Violence on White Ribbon Day in November.
As the pandemic restrictions waned, the gallery has cemented itself firmly as a local group within the community, contributing local works to the Cardinia Arts Society and Pakenham Art, as well as holding many other exhibitions locally, raising awareness about domestic violence.
This year, they formally established a committee. President and founder April Whitelaw is committed to keeping the group as a free and accessible way for artists to express themselves and contribute to stopping domestic violence.
"All our committee members are volunteers, we don't charge artists to enter their artwork, we don't charge to view the artwork and we don't charge commission on our sales," April said.
"Our vision is to have a nation where everyone is free from all forms of abuse."
A range of art can be seen at the gallery this year, from sculptures to paintings depicting many different subjects and perspectives.
April hopes this furthers the efforts of the community against domestic violence.
"We hope to have made an impact in raising awareness about domestic violence," April said.
"People can walk and view for free, it can create a discussion point, we've had psychologists bring clients in and those clients have eye-opening moments either while or after viewing the art.
"We've had junior artists and intermediate artists use their art for self-expression and healing after traumatic experiences with domestic violence.
"We want to see a happy household for everyone and an end to violence."
The exhibition opened on Tuesday 14 November and will run across White Ribbon Day on Friday 17 November until Sunday 26 November, open every day from 10am to 3pm.
White Ribbon Casey Cardinia will also be showcasing the art works on their Facebook page over the next few months at facebook.com/WhiteRibbonCardiniaCasey
The group is seeking new members for their committee, there will be an application form made available after the exhibition.
If you are interested in getting involved, you can either wait for an update on their Facebook or contact whiteribbonartgallery@gmail.com