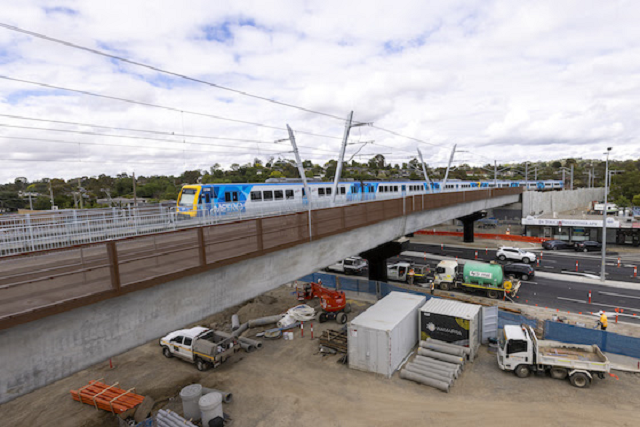 Teams from Metro Tunnel, Suburban Rail Loop, the Level Crossing Removal Project and Major Road Projects Victoria will visit Pakenham to answer questions about road and rail upgrades in the area.
Victoria's Big Build Roadshow, coming to the Pakenham Marketplace from 10am to 1pm on Thursday 11 August, gives locals a chance to understand more about important projects and understand upcoming works and disruptions in their area.
"Our community has a lot to look forward to with major transport improvements in the area, and this roadshow is a fantastic opportunity to hear from experts and understand the importance of the projects," Bass MP Jordan Crugnale said.
As part of Victoria's Big Build, the State Government is investing more than $25 billion in roads and rail infrastructure in Melbourne's South East.
All new and upgraded lanes on the Monash Freeway are open to traffic as Stage 2 of the Upgrade forges towards completion.
The upgrade has boosted capacity for the 470,000 daily motorists with 36kms of new lanes in both directions between Warrigal Road and Eastlink, and Princes Highway and Cardinia Road.
Teams are now planning upgrades to Racecourse Road, McGregor Road and the Princes Freeway – designed to make local road journeys smoother, safer and faster.
The Suburban Rail Loop, Melbourne Airport Rail and Metro Tunnel will significantly improve the way Melbournians in the south-east get around each day by reducing travel times, improving safety and reliability. 
The Metro Tunnel, on track to be completed a year ahead of schedule, and associated network improvements will create room for 121,000 passengers every week on the Cranbourne and Pakenham lines during peak periods.
The Labor Government is removing 57 level crossings in the south-east with 32 already gone – boosting safety, easing traffic congestion, and increasing the capacity of the rail network.
Level crossings at McGregor Road, Main Street and Racecourse Road will be the next to go in Pakenham, with new stations at Pakenham and Pakenham East. The Cranbourne, Pakenham and Lilydale lines will all be level crossing free by 2025.
When Melbourne Airport Rail opens, Melbourne's South East will have a direct connection to the airport via the new Metro Tunnel and new Sunshine station.
Together, these road and rail improvements will boost safety by taking trucks off local roads, increasing capacity on the rail network and provide more reliable travel times for hundreds and thousands of people each day.
Learn more at the Big Build Roadshow: Pakenham Marketplace from 10am to 1pm on Thursday 11 August.