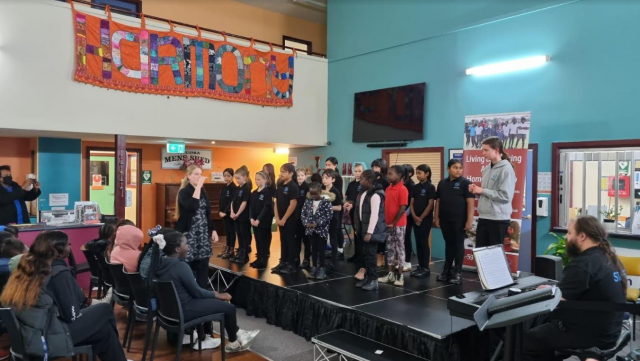 By Jamie Salter
Pakenham Living and Learning Centre African Homework Club students are celebrating this year's achievements, with a community event marking the occasion.
In partnership with the Melbourne Youth Chorale, the African Homework Club students held special musical performances on Sunday 26 June.
The event kicked off with a didgeridoo performance, followed by African drumming and the combined singing performance by the the Melbourne Youth Chorale and African Homework Club.
Students were presented with certificates to recognise their efforts in front of about 200 people.
Speeches were presented by African Homework Club art and sewing facilitators before guests enjoyed some delicious African cuisine.
The African Homework Club is a after school program funded by the Department of Education to support the African experience in the Cardinia Shire.
Formed in 2020, the club started with 11 students during lockdown and now has 130 enrolled students and about 20 tutors.
Tutors cover a range of subjects and activities including literacy, numeracy, sewing, music, art and sports.
Living and Learning project manager Chengkuach Aleer said the event was held to raise awareness of the club's programs.
"The event was really good – we had great feedback from parents, students, teachers and community members," Mr Aleer said.
"It's an opportunity to celebrate the student's hard work and achievements with their parents and families.
"We're always looking for more volunteer tutors as our program grows – the more tutors the better."