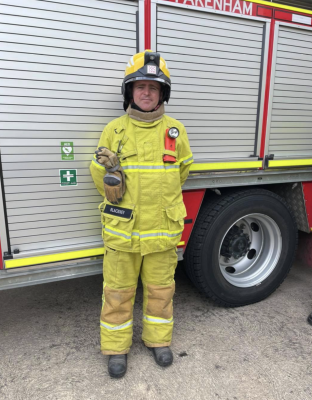 By Gabriella Payne
After almost 25 years serving the local community as a member of the Pakenham CFA, Adam Blackney has bid his firefighter friends farewell as he turns the page on the next chapter of his life.
A long standing brigade member who grew up in Pakenham, Mr Blackney has loved giving back to the community over the years, but is now venturing up the coast to spend more time with family.
Michael Corzelius, the Captain of the Pakenham Fire Brigade, said that Mr Blackney was an amazing firefighter and everyone at the brigade was sad to see him go, but excited for him at the same time.
"Adam will be sorely missed as a brigade member and as a leader in both the community and the CFA," Mr Corzelius said.
"He has a lifetime of experience and has been a great mentor to new brigade members, and he's just a really honest and open CFA volunteer who's been a big supporter of our local community.
"He will be sorely missed by all his team mates here at the Pakenham Fire Brigade," he said.
Stuart Sinclair, a fellow firefighter and the brigade's media officer, said that Mr Blackney had made a huge impact in his time at the station.
"Adam joined us in Pakenham almost 25 years ago and in that time, he has held many positions including Lieutenant, Group Delegate and as a crew leader," Mr Sinclair said.
"Apart from receiving long service medals, he's also been awarded the National Emergency Medal for his efforts helping with the 2009 bushfires.
"He's an extremely passionate firefighter and has been one of our top responders during his time at the brigade, so he will be very sorely missed by everyone," he said.
Mr Blackney decided to make the move to spend more time with his daughter, who lives up in New South Wales.
With no plans of stopping firefighting or volunteering anytime soon, Mr Blackney has already joined up with his new local firefighting brigade in NSW, and plans to come back and visit his friends in Pakenham in the near future.