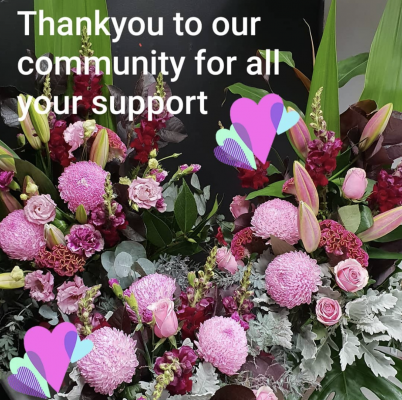 By Gabriella Payne
Many local businesses were left "shocked" and dismayed after the state government announced Victoria's snap lockdown on Friday – perhaps none more so than florists, who had been filling their shops full of flowers in anticipation of Valentine's Day on Sunday.
With it looking as though "thousands of dollars worth of stock" was headed for the bin, as all non-essential businesses were forced to temporarily shut, florists such as the Warragul Flower Shop were suddenly left in a prickly situation, but instead of admitting defeat, they decided to "go big" and rose to the occasion.
The owner of the Warragul Flower Shop, Sheree Kerr, has worked as a florist for over 24 years and said that throughout her time in the industry, she had never seen anything like the "crazy" events of Friday 12 February, and was just "blown away" by the community spirit and support that her store had received.
"Valentine's Day is always a massive day, there's a lot of preparation and it's always a very busy time and it can be very stressful – but this year it just got turned completely on its head," Ms Kerr said.
"I'm actually still shaking from the shock of everything."
Ms Kerr said that when she heard the news of Victoria's sudden lockdown, she was left in a state of shock and felt like she had "just died a bit inside".
"We switched on the computer to see what the announcement was and I just nearly died," Ms Kerr said.
"I couldn't believe it, I thought this is one of the biggest days of trade in our industry and you spend thousands of dollars on stock, in preparation and I thought, 'he's shutting us down, what am I going to do?'"
Instead of crumbling, Ms Kerr decided to make a snap decision of her own and told the team to "gear up" and "go hammer 'n tong" as they had until 11.59pm to sell their Valentine's Day flowers – and that's exactly what they were going to do.
"I just said to the girls, right, let's get ourselves in gear, let's pretend it's Valentine's Day today, let's put it on Instagram and Facebook that we're open til midnight and let's just go for it," she said.
Although Ms Kerr's plans to include a live musician in the store couldn't go ahead, the team banded together and rolled out a red carpet, while dressing up in pink glittery cat ears and pink and red feathers, to try and make a "positive out of a negative" – and that they did.
To Ms Kerr and the team's delight, people from the local community began flocking in the masses (while adhering to Covid safety measures) to help support the small business and buy a bunch of flowers before stores were forced into lockdown.
"I'm just so incredibly blown away by peoples' support," Ms Kerr said.
"When I think about the kindness of people coming in to support us so that we wouldn't have to put our flowers in the bin, I just want to cry."
Ms Kerr said that from the time of the announcement until close, at 11.59pm, her team had managed to sell almost all of their Valentine's Day stock and said that was thanks to all those who came in to buy a bunch of flowers – an estimated, 400 – 500 happy customers.
"I just can't believe it – that that sort of community spirit is alive and strong, and also just the power of social media!
I just put something simple on, saying we're open and trading until midnight, and it just went crazy," she said.
Ms Kerr thanked the community for their kindness and support during a difficult time, and said that if it weren't for the many customers who visited their store on Friday, they would have been forced to throw away almost all their stock.
"Red roses are a very specific product, people don't want them after Valentine's Day, they want them on the day or beforehand, so they would have all just had to go into the bin or be donated to nursing homes or something," Ms Kerr said.
"It would have been thousands of dollars worth lost – and all the labour and effort that goes into producing the beautiful stock that we do have in this industry, like growing it, watering it, feeding it, picking it, packing it; to have to put anything in the bin for that volume of stock, it would have been devastating, absolutely devastating."
Although Ms Kerr understood the reasoning behind the state government's decision to lockdown, she thought it would have been easier to prepare for if she and other business owners had been given more notice.
"I think it's a very difficult decision for governments to have to make these choices and nobody has a crystal ball, but it would have damaged many businesses, particularly in the hospitality industry," Ms Kerr said.
"You know restaurants had all these dinner bookings and things like that, so again, thousands of dollars worth of their stock, all their food, all those special things that would have been bought in would have gone to waste.
I think more notice would have been helpful so that people could have gone, ok, let's do our plan of action, but to just have the announcement, like 'bang!', I feel that was really unfair," she said.
Ms Kerr also thanked the Warragul Gazette for coming down to the store before lockdown and helping spread the word on Friday to the local community.
Although things didn't quite go according to plan, Ms Kerr said that overall, Valentine's Day for 2021 was an unexpected success and she hopes that her and her team can be back arranging flowers and bringing joy to the local community once again, post lockdown.