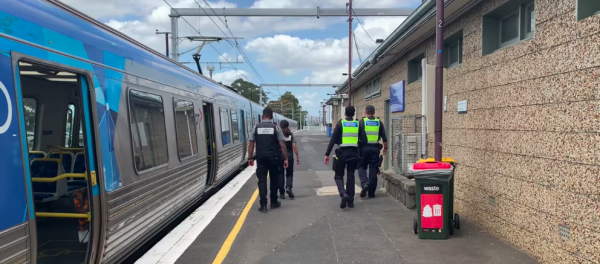 By Mitchell Clarke
A major police operation targeting illegal weapon use in Pakenham has resulted in 10 people being charged with a raft of drug and weapon offences.
From Thursday 7 January to Saturday 9 January, Victoria Police carried out targeted OMNI operations at public transport hubs in Cardinia, Casey and Greater Dandenong.
More than 160 people and 20 vehicles were checked, resulting in 16 people being arrested and charged for offences including firearm possession, assault, theft, drug and weapon-related offences.
In Pakenham alone, 10 people were charged with a range of offences and two people were cautioned for drug offences at Pakenham station.
A range of weapons, including a handgun, knuckle duster, tasers, extendable batons and multiple knives, were located and seized.
OMNI operations give police additional powers to detect weapon offences within a designated search area.
Acting Inspector Graeme Stanley said local police joined transit police with the intention of removing troublemakers "before they could cause any harm".
"We will continue to have a highly visible presence in the community and patrol high risk locations to prevent crime and hold offenders to account," A/Insp Stanley said.
"Police simply will not tolerate those who break the law or engage in anti-social or violent behaviour that puts the safety of others at risk."
It comes as Victoria Police launches a new Illicit Firearms Unit (IFU), which aims to put serious and organised crime groups under "increased targeted scrutiny".
The IFU will provide a specialist investigative response and intelligence gathering, as well as assisting with the enforcement of Firearm Prohibition Orders.
Detective Inspector Mick Daly said illicit firearms were a "key component" of so many serious crimes.
"We have some extremely skilled investigators in those areas, however their focus will rightly be on the incident itself and not the broader circumstances of the firearm used," he said.
"Our role will be to take the information obtained during those investigations and start to build a picture of how the illicit firearm is involved – who was it sourced from, where has it come from, has it been used in other incidents, does it give us an indication of any broader trends around areas such as trafficking."
Acting deputy Commissioner Bob Hill said the prevalence, use and harm caused by illicit firearms were of significant concern to the community.
"While Australia has some of the strongest firearm controls in the world, illicit firearms are an increasingly desirable commodity and enabler for serious criminal activity here in Victoria," A/DC Hill said.
"Last year in Victoria we seized more firearms than we did in 2019, which shows that a global pandemic had no impact on the prevalence of firearms in this state.
"I am confident the IFU will enhance Victoria Police's capability not only to respond to illicit firearms related crime, but to proactively target those responsible."
In late December, a man believed to be in his 20s, was found at the Fountain Gate shopping centre with a gunshot wound.
In 2020, there were nine fatal shootings and 41 non-fatal shootings resulting in injury. More than 770 firearms were seized in the past 12 months.