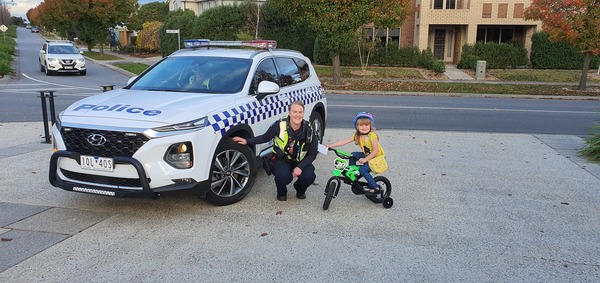 By Jessica Anstice
A five-year-old girl was intercepted by police while riding her bicycle on a footpath in Pakenham – but it wasn't because she was doing the wrong thing, in fact the complete opposite.
Sophia Studd went for a bike ride along Kennedy Creek after school on Wednesday 27 May alongside her aunty, Rebecca Rowed, who was walking their dog.
"She has been having a hard time with returning to school so going for a walk has helped her de-stress," Ms Rowed explained.
On this particular day, a police helicopter happened to be circling quite low above the pair, who are both Pakenham residents."We were not at all worried. As we moved around the creek we saw a police car and two police officers," she said.
"As we went past, Sophia called out to them saying 'I am a big fan of yours' but she didn't stop."
Ms Rowed and her niece continued on their way down the creek when police eventually caught up with them and 'pulled' Sophia over.
Sophia was praised by the two officers for doing the correct thing by wearing a helmet and riding safely.
"They gave her a ticket (her words) but the ticket was actually an entry into a safe bike rider program and a chance to win prizes," Ms Rowed said.
"She was so over the moon and is now convinced that the helicopter was actually following her to tell the ground crew that she was doing the right thing.
"With all that is going on I think it is important that everyone sees that the police are always there to help you."
Sophia was entered into Victoria Police's Cardinia Ride Safe Program which aims to encourage and exhibit good road safety behaviour.