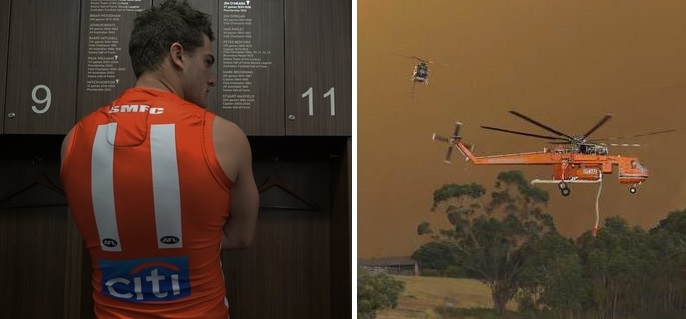 By sports editor Russell Bennett
You can take the boy out of Bunyip, but you can't take Bunyip out of the boy.
At just 22, Tom Papley was forced to watch the devastation of his home town and the surrounding area from about 1000 kilometres away in Sydney.
The Bunyip State Park fires have ravaged well in excess of 15,000 hectares in the local area, and all the young Swans footballer could do over the past few days was watch and listen to it unfold through the TV, radio, internet, and social media.
But he couldn't sit idly by – not while his home community was under attack.
The tough Swans small forward started a GoFundMe page to raise as much money as possible for his local area and its people – many of them his own friends and family.
"As someone who has grown up around the Bunyip area all my life and now moved to Sydney, seeing the devastation these people are going through and not being able to help my home community is heartbreaking," he said in a message on the page.
"So, I'm setting up a GoFundMe page with the Bunyip Football Club to do my bit for the families that have been affected by the fires.
"The funds will be used to help the families with food, clothes, and most importantly money for them to pay rent for those who may not have a home anymore.
"Any sort of donation is helpful at any time. The quicker the better for these families. Every little bit counts."
Tom went on to tell the Swans website that the families who've been affected by the fires have been "left shattered".
"While they haven't lost their lives, a lot of them have lost almost everything else."
And, like many others, his own family has a story to tell too.
The Tonimbuk farm where his father Dave grew up was directly impacted – the old house reduced to ashes.
"If it wasn't for the CFA firefighters and the choppers and aircraft overhead, I reckon Bunyip would have been completely inundated with fires," said Dave.
"On Sunday I reckon I counted eight choppers going berserk trying to save as much as possible. Those pilots have balls of steel.
"The town, itself, was like a ghost town – I'd say 90 per cent of people left. I stayed with another neighbour, but we were the only ones in our street."
Dave could only imagine what Tom must've been going through from afar.
"I reckon he probably texted me 100 times for an update," he said.
"When you hear things like 'The Bunyip Fire' on TV interstate, it's panic stations."
Dave said he could tell how affected his son really was – how powerless he felt.
"He's not really an emotional young bloke – he normally holds his cards pretty close to his chest," he explained.
"He's been on the radio on SEN talking about what's happened, and it's a weird feeling listening to your son like that.
"He's 22, but he's still our kid.
"It's hard to explain hearing him like that, but we're pretty bloody proud of him – definitely."
Many of those who've already donated to the cause on the GoFundMe page are Tom's Swans team mates.
Dave wasn't surprised – he knows intimately how famously tightknit the club is. His dad Max was the Swans' 1966 Club Champion as part of a dynamic duo with triple Brownlow medallist Bob Skilton, who also has close family directly impacted by the Bunyip State Park fires.
"Most of those young blokes come from interstate," Dave said about the Swans' culture.
"They all do everything together, and that's on and off the ground.
"When one of them experiences something like this, they'll all want to do their bit to help."
Anyone wishing to donate can visit www.gofundme.com/bunyip-bushfire-appeal. A separate GoFundMe page is also up and running to help the Clarke family, which was left devastated following the loss of their business – and their livelihood – the Jinks Creek Winery. To donate to that cause, visit www.gofundme.com/jinks-creek-winery-and-the-clarke-family.