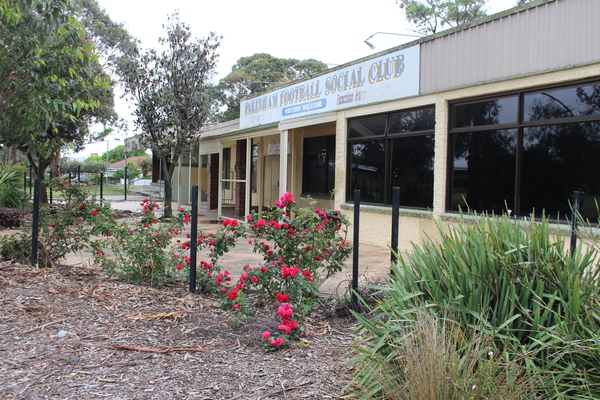 By Rowan Forster
The iconic Lion's Den has been completely demolished in what has been described as a "sheer act of mass destruction", despite Cardinia Shire promising to preserve the bulk of the premises.
In November, councillors opted to renovate and transform the site into a thriving education space, leasing the site to Community College Gippsland (CCG) under a 15-year agreement.
Under the arrangement, the facility's change rooms were set to be demolished – while the social club was set to be maintained.
However, those passing Henry Road in January made the grim discovery that the building had been completely torn down.
The Gazette understands that while contractors were demolishing the change rooms, the rest of the building began to collapse and was deemed "unsafe".
Community stalwart and long-time secretary of the Pakenham Football Club Graham Treloar was devastated to learn of the building's demise.
He refuted concerns about the Lion's Den's structural integrity.
"This is a bloody disgrace – I am in shock," he said.
"This is a sheer act of mass destruction.
"I think they always wanted to pull it down and it's a great waste and extremely disappointing."
"I drove past when the change rooms were down, stopped the car and went for a look – there was no way the other rooms would crumble."
Opening in 1982, the social rooms backed onto a canteen used by the football and netball clubs.
The building was eventually extended to include a kitchen and function room, as well as a pokies venue.
For many, the Lion's Den has a deep connection with Pakenham's past – representing the inception of today's Pakenham Football Club.
It has also left the council's lease agreement with CCG in the lurch.
CCG were set to bankroll $300,000 of the $681,000 required to revitalise the building.
The contribution will be considered as an offset to the rental for the first 10 years.
After a decade, it was revealed the college would pay $43,674 per annum, with a 2.5 per cent incremental increase each year.
Prior, the site had been earmarked for complete demolition by council officers.
Jillian Ronald, who had rallied to save the building from destruction, said she was extremely disappointed.
"I worked hard a couple of years ago to save this building from destruction – presenting a submission, lobbying councillors, investigating its history and community importance," she said.
" I wanted it available to be used by the community.
"So sad to lose another piece of local history."
Councillor Michael Schilling, who fought to have the iconic site preserved, was devastated by the outcome.
"From my point of view, it's quite disappointing," he said.
"That PB Ronald Reserve area is a hub of learning and it would have been great to have the CCG moving in.
"Unfortunately, some of the building was structurally unsound and it wasn't meant to be."
It is not yet known where the CCG will relocate to.