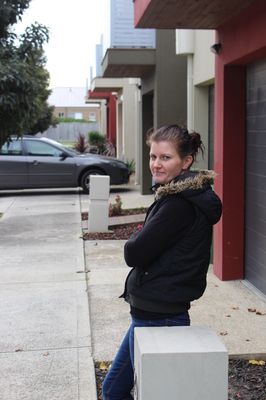 By Rowan Forster
A planning oversight is allowing "overzealous" council officers to slug ratepayers with fines for parking in their own driveways.
Townhouses on Manna Row, Officer have been allocated just 1.5 metres of driveway space due to a bizarrely-placed footpath cutting through the front of their properties.
The issue has reportedly been exacerbated in recent weeks, with inspectors "targeting" the precinct.
When the Gazette visited Manna Row, six ratepayers said they had been fined for parking in "their own" driveways in the past three months alone.
They are also prohibited from parking four wheels on the adjacent nature strip – forcing them to leave their vehicles on a thin road beside a sudden turn, prone to hoon drivers.
Deborah Hughes has vowed to contest her $100 infringement, which she labelled "unjust" and "ludicrous".
"This footpath has been placed in its location for no other reason than to revenue raise when shire funds are low," she said.
"There is no legal, safe parking available for guests of residents living within Manna Row.
"The footpath is placed over the middle of the driveway and it's not used by anybody except residents and guests."
Approximately 20 properties on the Officer backstreet have the same design, leaving them susceptible to fines.
Jim Harper, who has lived on Manna Row for five years, said he has received three fines in the past six months.
Before then, he claims he never had an issue.
"For some reason the council has realised that they've got a goldmine here and they've come along fining everybody," he said.
"Both of my neighbours have been fined, my son has been fined and I've been fined – they're getting everybody out here.
"The real issue is that somebody's car is going to be cleaned up while it sits on the road, and then who will be responsible."
Cardinia Shire has reportedly informed the residents that parking across the footpath is an impediment for the local letter carrier, who has to navigate around the vehicles onto the road.
Residents hit with the fines are encouraged to use council's dispute process if they believe the infringement was unfairly issued.