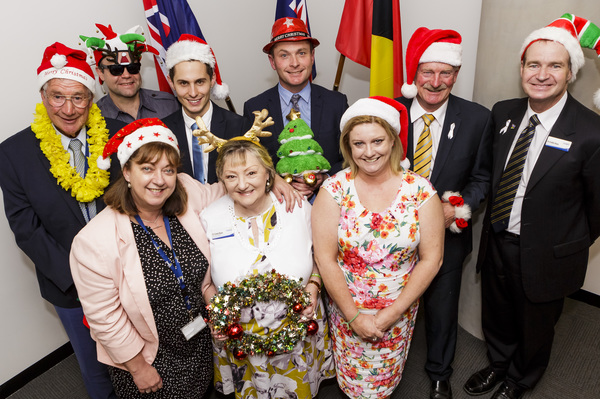 By Bonny Burrows
This year may mark the return of festive cheer to the streets of Cardinia Shire.
Cardinia Shire Council, last year branded a "Grinch" for not displaying Christmas decorations in Pakenham's CBD, has agreed to investigate the possibility of a grants program to assist community groups decorate local townships during the festive season.
The council does not currently fund the decoration of the shire's shopping precincts, as it "does not have such an arrangement nor budget" to do so.
But that may soon change.
At the 22 January general council meeting, Port Ward councillor Ray Brown moved a motion to consider a partial funding of such decorations after witnessing the difference a few bits of tinsel made to the community.
"Kooweerup was looking absolutely dull and it didn't look like Christmas at all," Cr Brown said of the past festive season.
But that quickly changed when an anonymous community member, dubbed the "tinsel terror elf" by Cr Brown, worked some magic on the town.
"A tinsel terror elf took it upon themselves… to put some tinsel in the trees around Station Street and all of a sudden it became Christmas," he said.
"For a small amount of money it really looked sensational."
Fellow councillor Carol Ryan said she was approached by many residents over Christmas unhappy with the lack of local decorations.
"It didn't feel like Christmas to them," Cr Ryan.
"(Christmas is supposed to be) about uniting family, children, seniors, the disadvantaged and the homeless."
Mayor Collin Ross said for too long council had been called the "Grinches of Christmas".
"I think it's something we need to address. The people have spoken," Cr Ross said.
Under Cr Brown's motion, council officers will investigate the viability of a Christmas decorations grants program.
While the details will be fleshed out following the officers' report, Cr Brown said he envisioned such scheme could involve council matching community group contributions dollar for dollar.
He joked the 'tinsel terror elf' would need to become an incorporated body to apply for the funding.
"We all like to see our townships looking good. It's good for the kids and it's good for the shop keepers," Cr Brown said.
Cr Michael Schilling said he was hoping the investigation would uncover an equable way to "inspire festive spirit and encourage social cohesion" within the local community.
The report will be tabled at the council's 19 March general meeting.