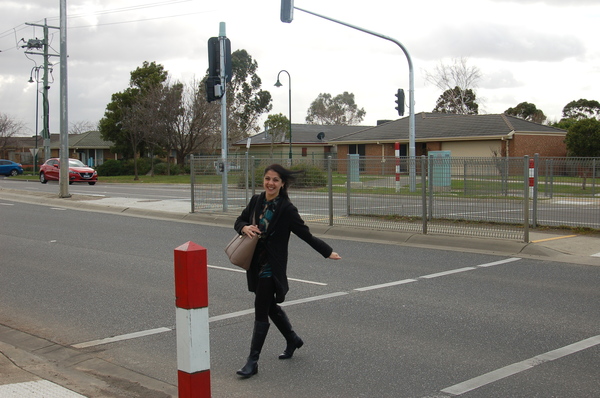 By Bonny Burrows
They were installed at the beginning of 2017, but it took seven months for Pakenham's McGregor Road pedestrian lights to be activated.
The lights, just outside Pakenham's Heritage Springs Shopping Centre, were installed at the beginning of 2017 following community lobbying and were expected to be operating by the commencement of the school year.
However, an undetermined hold-up saw the lights remain dormant for seven months.
The delay frustrated numerous community members, including Drive2Drive instructor Elaina Haig, who couldn't understand why the switch couldn't be flicked.
"I just don't get why it's taking so long. They're sitting there ready to go – switch them on," Ms Haig told Star News in May.
In a bid for answers, Ms Haig contacted all relevant bodies responsible for local roads and electricity supply.
However finding the cause of the delay proved difficult with Cardinia Shire, VicRoads and electricity provider AusNet all pointing the finger at each other.
Ms Haig said at the time that she didn't care whose fault it was, she just wanted the lights switched on before somebody got hit.
In late July, an AusNet spokeswoman said the lights were ready for activation, and it was "up to the council" to notify the power company when it wants the lights turned on.
At the time, Cardinia Shire Council's team leader of engineering, Cathal O'Loughlin, said council had requested AusNet connect power to the signals following their installation in January.
He confirmed activation was expected within the month, and two days short of the deadline in August, the lights were switched on.
Ms Haig was the first to use the crossing with the activated lights and described the signals' activation as "a miracle".