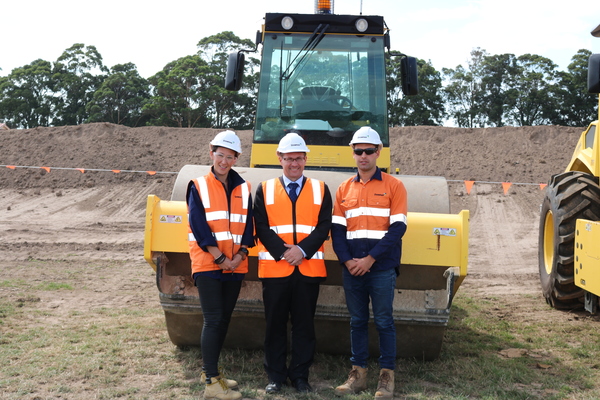 By Bonny Burrows
In a boost to local employment, job hunters can now apply for one of 110 new positions at Pakenham East's train depot.
Construction of the 118-hectare state-of-the-art facility, with shedding the size of 67 Olympic swimming pools, is underway and once complete will be used to maintain the State Government's new fleet of high-capacity metro trains (HCMTs).
Announced in April, the $280 million depot, spruiked as "the biggest train project in Victoria's history", will feature maintenance facilities, a driver training centre, a train simulator and stabling for up to 30 trains.
In a commitment to local employment, the State Government has promised at least 60 per cent of the project's 400-strong workforce will be made up of locals.
Already, 250 people are working onsite on Oakview Lane, and on 16 October Member for Eastern Victoria Daniel Mulino announced a further 110 workers will soon join them.
Mr Mulino said the new positions would involve testing and maintaining the 65 new HCMTs.
Workers in the automotive industry are encouraged to apply for the positions, as according to the government the project provides the perfect opportunity to use skills learnt in the vehicle industry to transition to a career in rolling stock.
"I encourage local tradies, engineers and construction professionals to apply and play a part in the biggest train project in Victoria's history," Mr Mulino said.
"We're backing Victoria's rolling stock industry and creating local jobs in Melbourne's outer South-East."
He also urged school leavers and other young locals to apply for one of 30 pre-apprenticeship positions, which are designed to potentially lead to apprenticeships on the HCMT project.
The Certificate II in Engineering Studies will be provided through Chisholm TAFE, which will hold information sessions in November 2017 ahead of a February 2018 course start.
Job seekers can also directly apply through Downer Careers at downercareers.com.
For more information on the pre-apprenticeship program and how to apply for a scholarship, visit chisholm.edu.au/downerpa.