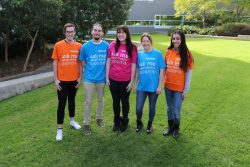 The transition to university life will be made easier for students at Federation University, Berwick Campus, this semester, thanks to the appointment of student mentors.
Six student mentors will provide first-hand experience to mid-year undergraduates in the first five weeks of study, a time when the university said peer support was needed the most.
Each mentor is assigned a group of students, and in the first few weeks this semester group catch-ups are held weekly to discuss academic requirements, social activities and available support services.
Deputy Vice-Chancellor of Learning and Quality, Professor Marcia Devlin, said student mentors were a great way for undergraduates to talk through any issues or concerns with like-minded students who had been in their shoes.
"The student mentor relationship provides a framework for constructive interaction between new students, their mentors and staff to empower them to embrace the challenges and opportunities university life has to offer, " Professor Devlin said.
Nathan Ryan was one of the first students to study the Veterinary and Wildlife Science degree at the new Berwick Campus, and has taken up the role of mentor.
He's excited about the new role, and feels he will be able to make a difference to new students' transition into uni life.
"I've been in their position. Starting university can be daunting, but if you are shown where everything is, introduced to the right people, given advice on what supports are available, then it makes the first few weeks a little easier," Nathan said.
"I want to continue the wonderful work my mentor taught me by making students feel comfortable and at the same time encourage them to speak up early, should anything be troubling them."
Federation University Australia will take full operations of the Berwick site in 2018.
In its inaugural year, over 400 students accepted offers to study, with nursing, education, business, vet and wildlife science rounding out the most popular degree programs.