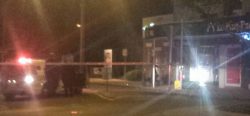 By Bonny Burrows and Helena Adeloju
The police bomb squad was called to Pakenham twice in just three days, following the discovery of two suspicious devices in separate incidents described by witnesses as 'sick pranks'.
On 5 June, a Pakenham waste plant was temporarily closed following the discovery of a suspected improved explosive device (IED).
Workers at Cardinia Waste and Recyclers came across the suspicious object, later found to be a fake, while sorting through rubbish.
Waste and Recyclers transfer station manager Ben King said upon the discovery of the device about 12noon, police were called and the Exchange Drive premises closed.
The scene was declared safe a short time later, and was cleared by police by 3.20pm.
"We were pretty certain it was a fake IED but we played caution to the wind, particularly because of what happened at the weekend," Mr King said.
The incident Mr King is referring to occurred just two days earlier, about 6.15pm on 3 June.
Police report a "smoking package" being hurled out of a Mazda hatch car window at Main Street Pakenham's National Australia Bank ATM.
Daniel Jones was banking a cheque at the time of the weekend's incident, and described a "thick black smoke" coming out of the cling-wrapped package.
Pakenham police responded immediately, cordoning off the intersection of John and Main streets and the Bomb Response Unit (BRU) was called in to investigate.
Using a specialised robot, the BRU was able to determine the "homemade smoke device" had "no explosive potential".
However, a shaken Mr Jones said he had feared for his life.
"It really frightened me, given what has been going on around the world," Mr Jones said.
"It was a pretty sick joke, if that is what it was supposed to be."
Police have not commented on whether the two incidents were linked, however have confirmed no injuries were sustained during either event.
Anyone with information on either incident is urged to call Crime Stoppers on 1800 333 000.