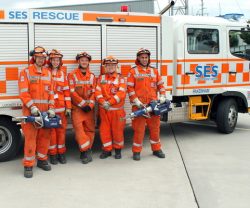 The Victoria State Emergency Service (VICSES) Pakenham Unit is recruiting new local members to play a vital role in ensuring the safety of their community.
The role of VICSES volunteers is to work with all Victorians to build greater awareness, involvement and self-reliance during emergencies.
As the control agency for flood, storm, tsunami and earthquakes, VICSES volunteers will also answer the call of the community and provide assistance in times of need.
Volunteers receive accredited, recognised training as part of their role, which could include general rescue, chainsaw operations, community education or media training.
There are also roles in road crash rescue, radio communications, finance, administration and other specialities, including marine and alpine rescue.
Pakenham SES Controller Andrew Graham said volunteering was a rewarding way of helping the community.
"VICSES Pakenham Unit is a great place to meet new and interesting characters and the unit always welcomes newcomers," he said.
"One of the things that make SES units so great is the diversity of members. You can have teachers working alongside electricians, retirees and university students. There really is a role for everyone at VICSES."
The Pakenham Unit is located at the Emergency Service Complex, Princes Highway, Pakenham and will be hosting an information evening on Monday 20 March 2017.
If you would like to learn more about becoming a VICSES volunteer and interested in attending the information night, please register your details online at www.ses.vic.gov.au/volunteer/become-avolunteer and select the Pakenham Unit.