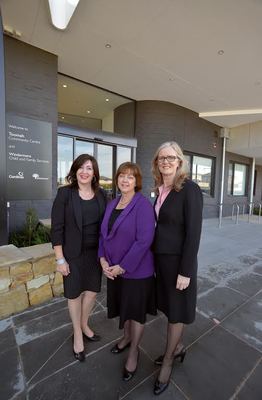 CARDINIA Shire's newest community centre is throwing open its doors.
Toomah Community Centre is holding an open day from 10am-1pm on Saturday, 29 August.
Residents can see the new skills and well-being community centre, have a look at the community space available for hire and learn about the services and activities on offer. There will also be a free sausage sizzle and kids' activities.
The state-of-the-art centre opened in April this year and has been providing the community with services, training facilities and meeting spaces.
The centre features five consulting suites, five meeting and activity spaces for community use and hire, a community kitchen, a training room with IT equipment, a commercial training kitchen and a social enterprise cafe.
Windermere Child and Family Services delivers support services and programs to disadvantaged and vulnerable members of our community from the centre. Living and Learning Inc. Pakenham manages the day-to-day operations and delivers training.
Mayor Cr Leticia Wilmot encouraged residents to take the opportunity to see what the centre could do.
"This centre will help people connect with one another, and will improve the skills, health and well-being of many of our residents. Council is enormously proud of Toomah Community Centre and we know it will benefit many people," Cr Wilmot said.
The centre's social enterprise cafe, On Track, will also be open on the day.
The cafe gives staff hands-on experience and training in the food and hospitality industries and provides nationally accredited training in hospitality-related certificates for early school leavers, parents returning to work, those who have been unemployed for some time and the culturally and linguistically diverse (CALD) community.
The $6.8 million facility was jointly funded by Council ($3.3 million), Windermere Child and Family Services ($2 million) and the Victorian Government ($1.5 million).
Toomah Community Centre is located at 18 Golden Green Street, Pakenham.