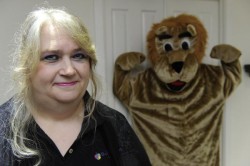 What\'s On
DJ's holds many different stalls and is celebrating its first birthday. Joining the market stall holders for their anniversary, Melbourne Transformers Optimus Prime and Bumble bee will be appearing from 11.30am to 12.30pm. The market includes a Girl Guides' sausage sizzle, children's activities and giveaways.
– Oakgrove Community Centre, 89-101 Oakgrove Drive, Narre Warren South. Saturday 8 and Sunday 9 August from 9.30am to 2.30pm. For more information phone Sharyn Holt on 0490 029 133.
Netball competition
JOIN the Cranbourne Indoor Sports netball open mix, open women's and under 18 ladies competition and be in the running to win.
The tournament needs a minimum of 10 teams to run and the winning team will receive $500. The runner-up will win $250.
– 14 Smethurst Street, Cranbourne. Register by Sunday 20 September for the competition on Saturday 26 and Sunday 27 September. Phone 5996 5411. Team entry costs $150.
Indoor bowls
JOIN in on the fun at the Casey Indoor Sports Centre. Tea, coffee, bowls, prizes and coaching is available.
– Casey Indoor Sports Centre, New Holland Drive, Cranbourne. Fridays 10am to noon. A first day fee of $5 applies per person. For more information phone Ron on 5990 9048 or 0411 126 946.
Portrait show
A COLLECTION of portraits and art are now on display.
The City of Casey is hosting an exhibition called Unique Identity by Casey resident Surya Murali and portraits by Stacey Chan and Hong Xu.
Mr Murali's works feature portraits of prominent individuals including the City of Casey's namesake Lord Casey, Noble Prize winners Madame Curie and Howard Florey, well-known Indigenous Australian, inventor and writer David Unaipon and Louis Braille, who invented the Braille system of reading and writing for those who are blind or visually impaired.
– Civic Centre Art Space in the Customer Service area at the City of Casey Civic Centre, Magid Drive, Narre Warren. Open from 8am to 6pm, Monday to Friday until 21 August. For more information, including upcoming exhibitions, visit www.casey.vic.gov.au/artspace.
Cinema songs
CONCERT Cranbourne Chorale presents Let's Go to the Movies, a part of the City of Casey Winter Arts Program.
The afternoon will feature the choir singing golden hits from the silver screen and let audience members test their knowledge of the movies to see if they can identify where the songs are from.
– Casey Grammar School, 3 New Holland Drive, Cranbourne, at the Performing Arts Centre. Sunday 16 August, 2pm. Pre-sale tickets are adult $20, concessions $15, child $6. Door sales are adult $25, concessions $20, child $6. For inquiries or bookings contact Jennie on 5998 7485 or Kateon 9799 1268. Credit card bookings at www.trybooking.com/HIDQ.
Lynbrook winter talent showcase
SINGERS, musicians, comedians, dancers, magicians, bands and alike are invited to the Lynbrook winter talent showcase.
About seven local performers are already locked in and the Lynbrook Residents Association is looking for more talent.
The event is not a competition and performers have to live locally.
– Lynbrook Residents Association, phone 0433 311 333 or visit lynbrook.org.au for more information. The event will be held on Saturday 22 August. Expression of interest forms are currently being taken.
Hand sewing workshop
JOIN acclaimed textile artist Leesa Chandler and her team are holding a week-long series of workshops exploring the art of hand sewing and stitchery techniques.
There will be a pop-up design studio, sewing studio and shop with workshops run by Leesa.
Suitable for people with some experience in sewing.
– Corner of Ballarto Road and Botanic Drive, Cranbourne, off South Gippsland Highway. Meet at the Visitor Centre, 10am to noon and 1.30pm to 3.30pm on Tuesday 18 August and Sunday 23 August.
Mental health
GROW is offering a unique 12-step recovery focused program to those suffering from stress, anxiety, depression and other emotional difficulties.
Gold coin donation appreciated.
– The Berwick Group meets at the Berwick Neighbourhood Centre, 112 High Street, Berwick, on Wednesdays at 10am. Contact the GROW Community Centre on 1800 558 268 or visit www.grow.net.au for more information.
Play bridge
U3A Cranbourne is looking for more people to play bridge and join its memoirs class which teaches participants how to collate past memories.
– U3A rooms at 3/65 Berwick-Cranbourne Road, opposite Casey Race Swimming Pool. Bridge will be held on Friday afternoons between 12.30pm and 2.30pm. Anyone who is interested in doing a class at U3A Cranbourne can phone Anne Thompson on 5996 7841 or 0419 509 875.
Cooking with dad
The Cook it With Dad program is an opportunity for fathers and children to cook together.
They can learn how to cook healthy meals with dad, spend some quality time together and strengthen their relationship as they meet other families and learn life skills as a team.
– Selandra Family and Children's Centre, 45 Haflinger Avenue, Clyde North, Saturday 21 February to Saturday 12 December, 10.30am to noon. Held every Saturday during school terms. Registration is essential with the City of Casey on 9705 5200 or email dadsmatter@casey.vic.gov.au.
Make moisturiser
THIS face and body moisturiser workshop will teach the method of preparing and combining all natural ingredients to create a healthy face and body moisturiser.
Each participant will take home a jar of each moisturiser they make along with the recipes.
Ingredients will be available on the day for those taking the workshop to purchase and make moisturiser at home. Cost includes all materials.
– Balla Balla Community Centre, 65 Berwick-Cranbourne Road, Cranbourne East. Tuesday 11 August for one week. 1pm to 3pm. Cost $32.
Free hearing tests
BETTER Hearing Australia will offer free consultations and hearing tests in Lynbrook to help people who suffer from hearing loss to better manage their condition.
The not-for-profit organisation provides hearing tests, hearing screenings, understanding hearing test results and advice on managing hearing loss or tinnitus.
Better Hearing Australia (Vic) also runs the Victorian Hearing Aid Bank where eligible people can access free hearing aids.
– Lynbrook Community Centre, corner Lynbrook Boulevard and Harris Street, from 9.30am to 4.30pm on 6 August, 3 September, 1 October, 5 November and 3 December. For further information contact Better Hearing Australia on 1300 242 842 or visit www.betterhearing.org.au.
Walk the centre
CRANBOURNE Park offers health walks where participants are taken by a qualified instructor from the YMCA.
Registrations can be taken on the day and participants are encouraged to wear loose fitting clothes and comfortable walking shoes.
– Tuesdays and Thursdays at 7.40am in the fresh food area and the walk finishes at 8.45am.
Bowls and bingo
HALLAM Senior Citizens Centre is open on Monday, Wednesday, Friday, and Saturday and offers carpet bowls, bingo, games, club room events and day tours.
New members are welcome.
– 4 Princess Domain Drive, Hallam. For more information contact president Paul Lorenzo on 9703 1068 or secretary Dorothy Mickelson on 9796 7580.
Digital camera classes
LEARN how to get the best out of a digital camera with digital SLR classes.
– Hallam Community Learning Centre, 56 Kays Avenue, Hallam, on Monday and Wednesday mornings from 9.45am to 11.45am. Phone 9703 1688 for more details.
Indoor bowls
ENJOY an indoor full size regulation bowls day with all bowls supplied and coaching for beginners along with a cup of tea afterward.
– Casey Indoor Sports Centre, 65 Berwick-Cranbourne Road. Friday mornings 10am to noon. No charge on first day. Phone Ron on 5990 9048 or 0411 126 946 for more details.
Park run
PARTICIPATE with more than 100 others in a free five kilometre timed event every Saturday morning.
The event caters for serious runners and for those wanting a jog or even a walk.
– Saturdays at 8am at Berwick Springs, visit the Berwick Springs parkrun website for more information.