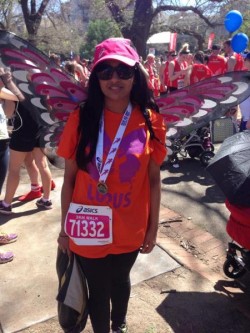 By LACHLAN MOORHEAD
ALISHA Walker has never had lupus but the illness has affected her all the same.
The 26-year-old from Endeavour Hills has family members who suffer from the autoimmune disease and knows how devastating its impact can be on those afflicted, as well as their family and friends.
It's why the aptly named Alisha Walker participated in this month's Melbourne Marathon three-kilometre walk, nominating the Lupus Foundation as her charity of choice.
And with October being Lupus Awareness Month, it was also appropriate that the marathon was held at the same time.
"I have family members diagnosed with lupus, it's quite personal for us," Alisha said.
"In general, there isn't as much awareness as to how autoimmune diseases affect people's lives."
And while she doesn't have the disease, Alisha has suffered similar symptoms in the past that have seen her further sympathise with those close family members who have been affected.
"Personally, for me, I wasn't diagnosed but I had triggers that could lead to lupus," she said.
"I've had a risk factor for it. It's like finding out you could have a risk for cancer but it's not full blown.
"I've experienced that initial shock you go through and can imagine if you actually did have it."
Lupus is a potentially fatal autoimmune disease that affects more than 5 million people world-wide.
According to information provided by the Lupus Foundation, many health professionals still do not know how to properly diagnose lupus.
Many people will be misdiagnosed or go undiagnosed, even dying without knowing they had the illness.
Alisha said she had made it her mission to raise the much needed funds for the Lupus Foundation to ensure it can continue its research in the hope of one day finding a cure.
Donations for the cause can still be made directly to the Lupus Foundation throughout October to its bank account, BSB 013-268, account number 4549-04178.
For more information, contact the Lupus Foundation on 85555 9295 or visit www.lupus-sle.org.