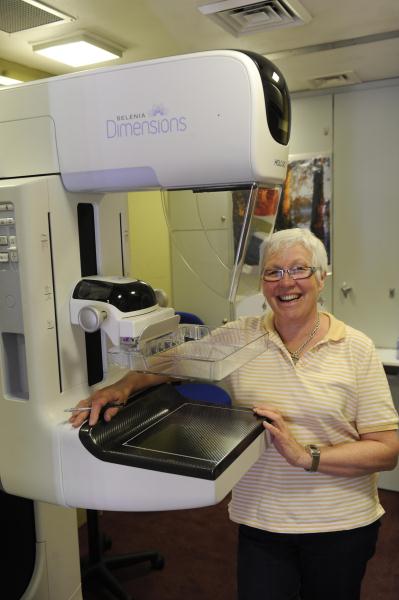 By NICOLE WILLIAMS
Women urged to boost life saving breast screening push…
BREASTSCREEN Victoria is calling on 600 local women to take up a free life saving service set up in Pakenham.
The mobile BreastScreen clinic has been parked in the Pakenham Library car park for a month, and bookings are still well below the target.
More than 700 women have now booked in for the service but BreastScreen Victoria CEO Vicki Pridmore said organisers hope to screen 1337 women before the end of January.
"We got 150 appointments in the space of a week and are at 730 bookings against a target of 1337," she said.
"Women in the target group are 50-74 years because 75 per cent of breast cancer is detected in over 50s.
"All the evidence shows that is where the greatest benefit is for that age group."
Ms Pridmore said the process was uncomfortable but women shouldn't be nervous.
"There is no getting away from fact that for large percentage it is uncomfortable but it takes 10 minutes and then you are free for the next two years.
"If women are nervous, there is nothing to stop you going down to see if there is space in the day available to have a look at the van," she said.
"Otherwise, I always think, the best way to understand what's going on is, if you have a friend who has been along, ask.
"Most people know someone who has had a mammogram."
Ms Pridmore said the BreastScreen website also had information and videos of what happens during a mammogram.
"At this point – with the state of science – we know that regular breast screening is absolutely the best way to detect cancer early," she said.
"The smaller it is the best possible outcome."
Bass MP Ken Smith has also previously encouraged women not to miss out on the service, after his daughter-in-law was diagnosed with breast cancer.
"She has just finished radiotherapy and we're waiting for the final results to come through.
"We are so pleased that she got diagnosed early and had the necessary treatment," Mr Smith said.
"I think it's an opportunity that women can't afford to miss, if you catch it early, there is every chance of a full recovery."
BreastScreen Victoria particularly encourages women aged 50 to 74 to screen as it is proven they benefit the most from the program although women over 40 are also eligible for a free mammogram once every two years.
To make an appointment call 13 20 50 or book online at breastscreen.org.au.
The van is located at Pakenham Public Library on the corner of John and Henry Street Pakenham.