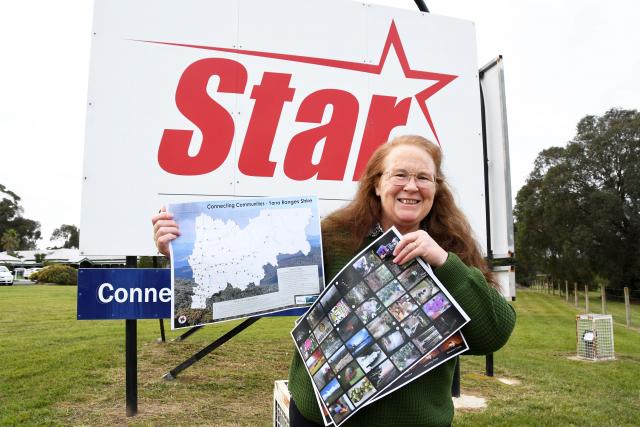 By Parker Mckenzie
Pakenham artist and writer Jenni Ivins has teamed up with Star News Group and Yarra Ranges Council to deliver a table-top journey across the Yarra Ranges.
This week's editions of the Star Mail newspapers includes the playing board, game cards and instructions for people to play with friends and family.
Ms Ivins has plenty of experience designing board games, with Connecting Communities – Yarra Ranges Shire being the third she has published within Star News Group newspapers.
She said the idea first started in the Pakenham-Berwick Gazette during Melbourne's lengthy lockdown in 2020 as a way to connect people to the community.
"One of my core values is that art should be accessible for anybody and I like to include free activities as well as paid workshops with my exhibitions," she said.
"The games came about because when we went into lockdown, one of the people in my network was saying we don't need to know which day of the week it is, back in April 2020."
A Facebook group was born, where every Monday people would come together to work on art and connect with each other.
Ms Ivins said she already had a grant from Cardinia Council for an exhibition and when the lockdown was extended she received more funding to create something for the community.
"That's where I came up with the first board game, it was called Apart Together because we were all playing a part together," she said.
"It won a country press award for the best community campaign. We had people drawing pictures and making art because people were at home, and I was helping them with creating the art itself and then putting those on the cards."
The success of the first board game led to another being commissioned, this time for the Macedon Ranges Shire.
Ms Ivins said she has had positive feedback from people who have played the previous two games.
"The last place that I did the residency in that project was at coordinate Caldermeade Farm. On one of the farm tours a lady told me she still has the game two years later and she still plays it with her boys," Ms Ivins said.
Other feedback I've had is things like people didn't know there were so many towns and they didn't know that different areas were in the Shire. People are more familiar with the geography after playing."
The board game features locations, people and events from across the Yarra Ranges which people have submitted to Ms Ivins, including the Kalorama Chestnut Festival, the Redwood Forests and local Belgrave wizard Baba Desi.
Ms Ivins said after the release of the board game, she plans to return to her art and write a companion book for one of her exhibitions.
"I'm going to be writing a fantasy story to go with my mind drawings series fairies without wings," she said.
"The exhibition will be touring next year."