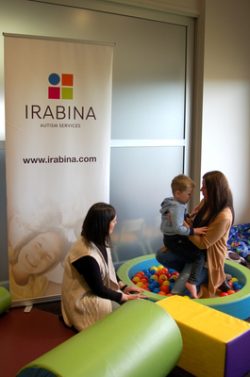 By Kyra Gillespie
The prayers of a young family have been answered by the work of Pakenham's Irabina Autism Services.
After their son Jake was diagnosed with severe autism at just 18 months old, Lisa and her husband's world was turned upside down.
What to do? Where to go next?
These were the questions this young family faced.
After months of dead-end appointments with various therapists, doctors and paediatricians, Lisa was feeling desperate and frustrated by the lack of progress that Jake was making.
That's when they found Irabina in Pakenham, and the couple haven't looked back since.
"Irabina has changed our lives, I'm so glad we found them," Lisa said.
Irabina is a not-for-profit organisation that helps families adapt to the challenges of living with autism spectrum disorder (ASD).
Lisa's family travel three times a week from Moe to Pakenham, where Jake, 4, receives individualised applied behaviour analysis (ABA) therapy.
"It's not just good for Jake but the whole family.
"We feel like we're finally on track, and actually have a path now because we're all working to support the same goal."
"We get to meet other families and be around a community of people who understand.
"It's a comfort to know we're not alone" Lisa said.
Irabina has a specialist team of speech pathologists, occupational therapists, psychologists, social workers, special education teachers and education assistants, all who are experts in assisting families and children affected by ASD.
Irabina head psychologist Jose Molina, who holds a doctorate in clinical psychology, has been working closely with Jake, and highlighted the need for families to be aware of early intervention.
"There are a surprising number of professionals and paediatricians who suggest that parents 'wait it out' when they suspect something might be happening for their child.
"I can't stress enough the importance of early intervention – it can be the key to unlocking a child's full potential," Dr Molina said.
Dr Molina also discussed modern efforts to re-structure the archaic language used around autism spectrums.
Rather than diagnosing autism in terms of severity, medical professionals are now framing it around how much assistance a person might need: with level one being 'requiring support', through to level three which is 'requiring very substantial support'.
This, in turn, means that for a young mother like Lisa, Jake's condition isn't so daunting.
Dr Molina wanted families to be aware that there is a new National Disability Insurance Scheme (NDIS) rolling out this year, which means funding won't be cut when a child is seven as per the old scheme.
"This means kids have room to grow and families can think in a broader, more continuous way," Dr Molina said.
Irabina is opening its doors to the community and hosting an open day on Saturday 19 August and Monday 21 August, 1.30 – 3.30pm on both days at 145 Henry Road, Pakenham.
The open day will be a great opportunity for the local community to tour the facilities, talk directly with clinicians and find out more about the services Irabina provides.