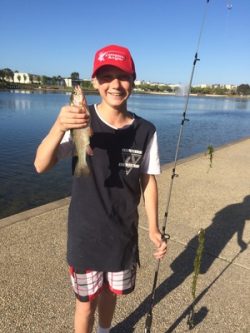 By Bonny Burrows
Deegan Cooper is one happy fisher.
After breaking his last rod during an accident where a toddler rode over it while he was fishing at Lakeside, the 14-year-old was crushed.
"I had just got it for my birthday," Deegan said.
Mum Raylene posted a message on the Lakeside Locals Facebook page as a warning to others, after a similar accident had happened to another child.
"Just had my son come home from fishing at the lake after a child ran over his fishing road on their bike and snapped it in half while he was helping his mate reel a fish in. Lesson learnt but also a warning to others as another guy had the same thing happen to them today too," she wrote.
To their surprise, Adam Davey, owner of Compleat Angler Pakenham, commented and offered to replace the rod free of charge.
"I'm the owner of Compleat Angler Pakenham .. tell the young lad to come into the shop tomorrow, I'll give him a rod/reel combo on the house … I'm all for getting kids into fishing," he posted.
Deegan said he was overjoyed.
"I wasn't really expecting it at all, I'm really happy," he said.
The self-described "outdoors kid" said he was keen to get back out on the water, and shortly after speaking to the press, snapped a pic of his biggest catch yet from Lakeside.
Deegan and his mother expressed their thanks to Adam for his "unbelievable generosity".