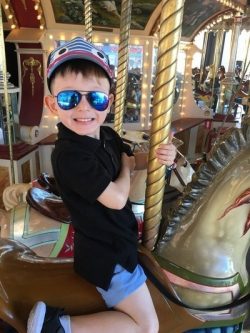 By Bonny Burrows
It's every parent's worst nightmare – a phonecall from police telling you they've got your son.
For local mother Sonya Ford, that nightmare recently became a reality.
On Tuesday, Ms Ford was horrified to receive a phonecall from police to say that her five-year-old son Jacob had escaped from his Officer kindergarten – unnoticed by staff.
Jacob had wandered out of St Clare's Early Learning Centre on Majestic Drive undetected about 9.30am on 1 August.
It is understood Jacob had just been dropped off to kinder for the day by his father.
Wanting to "see his dad", it is believed the five-year-old used a chair to reach the door of the facility, before sneaking out.
According to his shocked mother, Jacob was found by passerby Laura Hayson an hour later, more than 2.5km away along the Princes Highway at the Officer weighbridge.
Ms Hayson took Jacob to the Pakenham Police Station – much to the surprise of St Clare's.
"The kinder did not notice he was missing until the authorities alerted them," Ms Ford said.
She said she never expected to receive a phonecall at work from the police telling her they had her son.
She said it was "scary and appalling" the centre didn't notice Jacob's absence.
"As a parent … you trust them with the safety of your children," Ms Ford said.
"Much worse could have happened … he is safe, just shaken up."
The Catholic Diocese of Sale oversees the operation of the kindergarten.
Its business manager, Paul Velten said child safety and well-being was something the parish took "very seriously".
"We are extremely thankful and grateful the child is safe," Mr Velten said.
He said the incident had been reported to the Department of Education and said the parish would also conduct its own investigation.
"We will certainly undertake our own thorough investigation and look at putting practices in place to ensure it doesn't happen again," Mr Velten said.
A spokesperson for the Department of Education said it was notified on Tuesday of "a serious incident involving a child from St Clare's Early Learning Centre."
The spokesperson said the department had commenced an investigation into the matter.