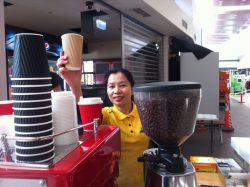 By Helena Adeloju
The owners of a fire-bombed Heritage Springs cafe have bounced back, opening a coffee cart while the damage is repaired.
Thida Lim's coffee cart opened for business on Tuesday 27 June, restoring the local shopping precinct's coffee supply for shoppers and workers.
"It's good to at least have something going," Ms Lim said.
"Everyone has been so nice helping to raise money for us."
She said Heritage Springs was a beautiful community.
"Mums, teachers and workmen have been coming to buy coffee from our cart," she said.
"Thankyou to everyone for supporting us."
Three men who were captured on CCTV vision entering the premises at 2.30am on Sunday 11 June are believed to have sprayed accelerant throughout the shop, and set it alight.
The Pakenham and Nar Nar Goon CFA crews attended to fight the initial fire, and helped to clean up the area in the aftermath. The arson squad was also called into investigate.
Despite the setback, Ms Lim's smile and cheery disposition are the hallmarks of her optimism.
"We are still hoping to be able to open in July," she said.