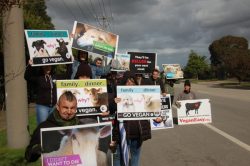 By Bonny Burrows
Vegan activists took to Pakenham on Tuesday to promote a meat-free lifestyle and animal rights.
Targeting the area as it was home to the saleyard closest to the city, about 35 Animal Activists Australia, Melbourne Cow Save and Melbourne Sheep Save members "peacefully" protested outside the Victorian Livestock Exchange against the killing of animals for food.
With phrases such as ''I didn't want to die', and 'They'll be killed for your next meal', splashed across signs, the group's support for veganism was clear.
Demonstration organiser Rochelle van Heerden said livestock animals were no different to cats and dogs, yet the public's perception differed.
Nobody would want to kill or eat their family pet, she said, however people would willingly slaughter livestock for food.
"We are here to raise awareness about the industries that are killing and exporting by the billions when they don't need to," Ms van Heerden said.
These industries were driven by consumer demand for animal products, the activist said, and if people stopped eating meat and other animal by-products, would cease.
The group also recommended people stayed clear of wearing clothing made from the skin of animals, be it leather, feathers or other materials.
Ms van Heerden said the change began with the individual, and then it would filter up the chain.
"We want to show the public these animals have a right to live," she said.
"They are no different from cats and dogs; they all experience pain and have basic needs and rights."
All activists in attendance on Tuesday believed there was no such thing as a "humane death" and argued no animal should have to die for human greed.
Describing the event as a "peaceful, silent vigil' the group said they would continue to hold similar demonstrations in the future until there was no more unnecessary killing of animals.
People interested in finding out more about veganism and the campaigners can visit https://www.veganeasy.org/ or visit their individual group Facebook pages.