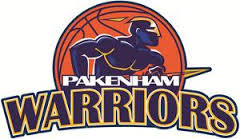 By Russell Bennett
The Pakenham Warriors' undefeated streak to start the new Division 2 men's Big V basketball season has stretched to five games after a 14-point win at home over the Mildura Heat on Saturday night, 80-66.
The Warriors opened with a commanding 21-9 opening quarter and capitalised in the second, extending the margin to 13 by the main break.
The Heat made their run in the third, but the Warriors steadied in the last with a 22-16 term to close out the contest.
Pleasingly for Pakenham, Trent Lee top-scored with just 17 points while Nick Ross added 13 as the side's only other scorer to reach double-digits.
This truly was a whole team performance with contributions from top to bottom.
Though the Warriors could only manage 41 per cent shooting from the field, Lee shone with 8-11 to go along with his four boards and three assists.
Skipper Ben Gaze had a rough night from both the field and the free-throw line but still finished with a near double-double (9 points and 10 boards).
Pakenham's intensity was there to see throughout the clash, more than doubling Mildura in second chance points (11 to 5) and bench production (23 points to 9).
That said, there's still plenty for Brent Russell's group to improve on – particularly its horrid free throw shooting.
On Saturday, that number dipped to just 37 per cent as the Warriors could manage to drain just 13 of their 35 attempts from the charity stripe.
Still, Pakenham currently has a share of the lead in Division 2 with wins from each of its first five games holding the team in particularly good stead given it has played two less games than each of the three sides around it in the standings – Collingwood, Southern Peninsula, and Wallan.
Russell's group will next face the North East Bushrangers from 8pm this Saturday at The Colosseum at Cardinia Life.
In other Pakenham Big V news from across the weekend, Simo Pajdic's Youth League men's side stormed to an 86-58 victory away to the Seahawks in Warrnambool on Saturday afternoon.
Kyle Nagel and Tobie Dean led the way with 17 points apiece for the visitors, while Tom Greer added a big double-double with 14 points and 10 rebounds to go along with 5 steals and an efficient 5-9 from the field. Lee Belton also stuffed the stat sheet with 14 points, 7 boards, and 3 steals.
The Warriors were particularly adept at defending the long ball from Warrnambool – keeping the Seahawks to just 12 per cent shooting from deep throughout the contest. The Warriors also convincingly outrebounded their opponent 53-37.
They'll next face the Casey Cavaliers at home from 6pm this Saturday before heading to Bialik Stadium on Sunday to face their namesakes the Maccabi Warriors from 2pm.
Finally, Darren Thomas' Youth League women's side notched up the most emphatic win in their short history so far, destroying Sherbrooke 84-53 on Saturday night in Belgrave.
Ellie Coutts was again outstanding with 18 points and 10 boards to go along with 4 dimes, 2 steals, and 3 rejections.
Jaime Armstrong added 16 points and 9 boards, while Samantha Neil added 13 points and 6 steals.
As part of this Saturday's triple-header at Cardinia Life, the Pakenham girls will host the Sunbury Jets from 4pm before heading to Dromana to face the Western Port Steelers on Sunday from noon.