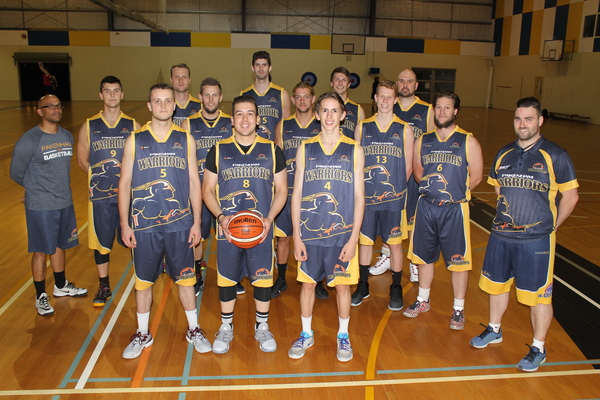 By Russell Bennett
The Pakenham Warriors Big V basketballers are continuing to build momentum through the early rounds of the season, with another weekend of strong results.
Brent Russell's Division 2 men's team survived a scare on their home floor to clinch a six-point victory over the Southern Peninsula Sharks, 83-77; while Simo Pajdic's Youth League Men's side rebounded from a disappointing six-point loss to the Collingwood All Stars to storm home by 21 over the Western Port Steelers.
Darren Thomas' Youth League Women's team, meanwhile, continues to edge closer to their maiden win – going down by eight to the Steelers, 61-53.
"We had our chances early, but couldn't get going with some minor brain fades which Southern Peninsula took advantage of," Russell said of his side's clash with the Sharks on Saturday.
"We fell into little bit of a hole and Southern Peninsula came away with a good third quarter.
"Climbing our way back into the game after being down double digits, we found light at the end of the tunnel and soon enough had a ball game.
"In terms of standouts, everyone stepped up to the plate when we needed it most and put in a hard fight.
"We just can't let ourselves get into that situation again of allowing 24 offensive rebounds and giving up 31 turnovers.
"When we settled and played our game, we were great and early in the season we are yet to put 40 minutes of Pakenham Warriors basketball into games.
"That day will come, and when it does we will be in a great place.
"Something we will be following pretty hard is the old saying 'the strength of the pack is the wolf, and the strength of the wolf is the pack'.
"We have a challenging game this Saturday against a good Craigieburn side, so again we hope to keep our journey moving forward and coming out winners of that game also."
Rob Maartens led the way for the Warriors on Saturday with 20 points, while big men Brad Bridgewater and Josh Bjelan added 17 and 16 respectively. But the most encouraging signs for the Warriors is the upside still to come, as Russell referred to.
The Youth League Men had a point to prove in their second game of the weekend after dropping the first to Collingwood, and came away with an emphatic victory over Western Port – 72-51.
"We, as a group, did well for three quarters and then went away from what got us the lead," Pajdic said about the first game.
"Our guys needed to have a good hard look at themselves following that fourth (quarter) collapse.
"We backed that up by travelling down to Dromana to play the Western Port Steelers. The boys had come out like a different team from the night before and really played well."
The Warriors exploded in the second half, turning a one-point lead into a 21-point win. Pajdic made particular note of the performance of young Michael Jok, who in just his second Big V game finished with 17 points and 14 rebounds.
Thomas' Youth League Women's team showed unbelievable heart in their game – coming back from a 19-point deficit with just a quarter left to play to lose by just eight. Sam Neil was a clear standout for the Warriors with the incredible stat line of 18 points, 6 rebounds, 4 assists, and 9 steals.