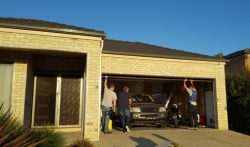 By Cam Lucadou-Wells
A 28-year-old Beaconsfield man and a 31-year-old Pakenham woman were arrested in a series of early-morning police raids on 14 March, which saw senior members of the Comancheros Motorcycle Club arrested.
Assistant Commissioner Steve Fontana said that the OMCGs "don't stop" despite the arrest of "key players".
"They seem to be able to recruit and continue their activity, but we'll continue to pursue them," he said.
Sixteen men and women had been charged as a result of the raids, including a 35-year-old Lyndhurst man who is facing 15 charges including trafficking a large commercial quantity of meth, inciting another to recklessly endanger life, conspiracy to commit criminal damage by fire and possessing an unregistered handgun.
A 31-year-old Cranbourne North man was charged with offences including aggravated burglary, criminal damage by fire, and kidnapping.
The pair were remanded and were due to appear at Melbourne Magistrates' Court yesterday, 15 March.
Three other arrested people were expected to be charged on summons.
Twenty-five homes, a business and a factory were raided in suburbs across Melbourne including Berwick, Narre Warren, Cranbourne, Cranbourne North, Cranbourne West, Dandenong South, Beaconsfield, Keysborough, Clyde North, Lysterfield South and Eumemmerring.
Police said they seized several items including vehicles, a firearm, jewellery, cash as well as cocaine, methylamphetamine, GHB, cannabis, ecstasy and steroids.
Police, including officers from the Echo Taskforce and the Australian Federal Police anti-gang unit had investigated a Comancheros and Rebels bikie gang feud including a fire-bomb attack on South Melbourne's Kittens nightclub in July last year as well as 20 non-fatal drive-by shootings, Mr Fontana said.
Some of those arrested in the 14 March raids would be charged over a firebombing of a Rebels clubhouse in Dandenong in October 2016.
Mr Fontana said the OMCGs were organised crime groups involved in serious crime on a daily basis, such as drug trafficking, extortion, arson and stand-overs.
"We are not intimidated by OMCGs and we will not allow our communities to be," Mr Fontana said.
"We know these groups have long histories of engaging in warfare among themselves however the indiscriminate nature of their attacks, including drive-by shootings, means there is immense potential to endanger innocent members of the public.
"This is above and beyond the harm they already do our communities through manufacture and trafficking of drugs," he said.