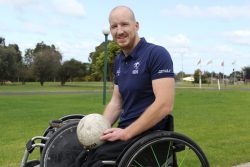 By David Nagel
Pakenham Paralympic gold medallist Matt Lewis will soon add a prestigious OAM to his growing medal count after being named on the 2017 Australia Day honours list.
Lewis, who lost his fingers and both his legs in a backyard explosion in August 2011, receives the award for services to sport, being part of the Australian Wheelchair Rugby team that struck gold in Rio last year.
And, while he is thrilled with the award, he has barely time to take it all in.
"Not as yet, it's been a really hectic ride over the last few months," he explained.
"We won the gold medal in Rio, so that was quite a ride, and since then I've been to Bali and then to Japan to play in their nationals.
"Initially, I didn't really understand why I'd been given this honour, but it's awesome. Some of my friends were awarded the same thing after London (2012), so it's pretty sick to be joining that list. It's been a real rollercoaster ride, but I'm just taking it as it comes."
Lewis received what he describes as an 'official looking letter' in the mail last year, asking if he would like to be considered for the award. Initially sceptical, he accepted, and then received the great news as Christmas turkey was being cut.
"Initially, I wasn't sure, I wasn't sure if maybe I'd done enough to receive such an honour, but others must really rate what we do," he said.
"This isn't about what I think, and maybe we do underestimate our achievements. I got back from Japan on Christmas morning and a letter was there to say I'd been accepted. That was a pretty cool Christmas present."
Not all of Matt's mail comes with the Royal stamp of approval, with a rather nondescript communication offering him one of his greatest surprises since Rio.
"I received this ordinary looking e-mail asking if I'd like to take part in some parade at the MCG on grand final day," he said.
"It ended up being one of the most amazing experiences of my life, being driven around in a car inside the fence at the MCG on the biggest day of the year."
Matt remembers his accident and his state of mind at the time with clear precision.
"I was with mates, and I was pretty disillusioned at the time and we started acting up a bit," he said.
"It was August 21, 2011, a Sunday so I had work the next day. We had a gas bottle and were adding ingredients to make a bomb. It wasn't happening as quickly as I thought it should, so I picked up the bottle and gave it two shakes. It went off in my hands; I lost my fingers and both my legs and ended up in an induced coma for a month."
Matt is back in hospital these days, but now as a member of the Royal Melbourne's P.A.R.T.Y. program, aimed at the Prevention of Alcohol and Risk-Related Trauma in Youth.
It's a role he really enjoys.
"I think my set of circumstances is pretty unique, but the P.A.R.T.Y program offers injury survivors like me the chance to talk to these kids and hopefully give them some direction," he said.
"I really enjoy being involved, and it's a great program. The kids get to visit the I.C.U. and get spoken to by the police and other stakeholders as well."
And he has future goals, some serious, and some not so demanding
"Nothing specifically, just to study hard and become a more rounded individual who has a life full of fulfilment," he said.
"We've got trips to Japan and New Zealand on the horizon, so another goal is to turn those gold status frequent flyer points into platinum before too long. Another goal is to outdo a mate of mine who has PhD beside his name. I have OAM now, so it's getting pretty competitive."
And he hopes to tick off another of his goals at the OAM ceremony.
"I think we go to Government House in Sydney at some stage to receive it, and it's always been a bit of a goal of mine to meet royalty."
Lewis' gold-medal winning team-mate from Rio, Drouin's Jayden Warn, has also been awarded an OAM.