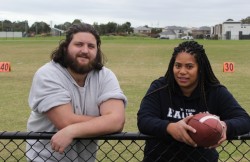 By RUSSELL BENNETT
THE Pakenham Silverbacks gridiron club has created history yet again, with six players – and coach Richie Howlett – involved in the first ever Victorian state women's team.
The Victorian Eagles headed to the nation's capital recently for its first ever interstate clash to take on a Monarchs team made up of both ACT and New South Wales players.
And the Vics – including Pakenham players Jessica Jhajj, Maree Neophytou, Matilda Vaosea, Ramona Havili, Yana Mazel, and Samantha Kelly – came away with the win, 38-24.
Howlett, one of the Silverbacks' co-founders, was involved in coaching the offensive line for the interstate clash.
He said it marked another step forward for Victorian gridiron.
"I think the best part about it was that on a club level women play for all different sorts of reasons, but by the time you get to state level everyone is playing because they're passionate and driven and want to be the best they can be," he said.
"That makes a huge difference to the mentality of the team.
"It was good that we had six of our players in there. I think that was the third-highest representation of any club, so that made me feel great about it.
"We founded the Silverbacks with the intention of making the sport available to as many people as possible, and that's why we've tried to enter all the competitions available to us. The sport is growing, as a whole, and we're just trying to capitalise on that."
By her own admission, Havili still isn't used to calling herself an athlete. But that needs to quickly change.
After spending her rookie Gridiron Victoria season at the Berwick Miners Diamonds, Havili – from Clyde – has found a new home with the Silverbacks.
In the space of two seasons, what the 29-year-old mum of three has achieved is nothing short of remarkable.
Having competed for the Victorian side, she now has her sights set on representing the Australian Outbacks and will compete for a spot on next February's 45-woman roster.
The Silverbacks had an impressive contingent of players in positions throughout the Eagles line-up recently.
"It was really something special, and being named with women from lots of other clubs was as well," Havili said.
"To form new bonds and friendships is really cool too."
Havili put not only her own development in the sport, but that of some of her team mates, down to the growth of the game across the state, and their coaching at the Silverbacks.